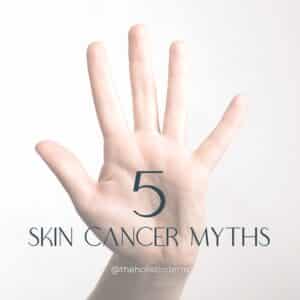 Today we're going to talk about skin cancer myths when it comes to preventing and treating skin cancer.
SKIN CANCER MYTH #1: HAIR PREVENTS SKIN CANCER
You would be surprised by the number of patients that I see with skin cancer spots on their scalp, and under their hair. Most people believe that they won't get skin cancer if hair covers the skin, but this is completely false. 
Hair is not woven tightly enough to block ultraviolet radiation, even light from the sun filters through the hair to the scalp. To protect your head from these harmful rays, and to reduce the chances of skin cancer, including malignant melanoma, I always recommend wearing a hat. There are some terrific companies out there that make hats with an SPF rating to protect your skin. Make sure to look at SPF ratings and purchase brims that will surround your entire head when shopping for skin-protectant headwear. If you have any questions, please reach out to me for more information!
SKIN CANCER MYTH #2: ONLY CERTAIN SKIN COLORS CAN GET SKIN CANCER
Skin of any color and from any nationality has the ability to get skin cancer including malignant melanoma. Just because you have dark, easily tanned, or fair skin, does not mean that you are free from possible skin issues. 
In fact, I recently saw a very health-conscious, Hispanic, patient who let a skin lesion grow on his back for fifteen years because he believed the skin cancer myth that his skin color was immune to skin cancer. Unfortunately, because of the delay in diagnosis, the skin cancer had grown very large and we had to operate on an extensive area, leaving him with a sizable scar. He could have avoided this scarring altogether if he had taken preventive measures or he could have minimized his scarring if he had been diagnosed and treated sooner. 
SKIN CANCER MYTH #3: SKIN CANCER IS ALWAYS DARK OR BLACK IN COLOR
Skin cancer loves to keep us guessing and shows up in different shapes, sizes, and colors. Don't assume just because a spot on your skin is dark or black that it is cancerous, and equally, don't assume because a spot is light or pink that it is not. 
Skin cancer can take on many colors and while it can oftentimes include shades of brown and black, it can also show up in different shades of pink and red. I've even seen some cancerous spots even show up in white or blue. If you are unsure about the color of a skin spot, don't hesitate to see your dermatologist for a proper diagnosis.
SKIN CANCER MYTH #4: YOU DON'T GO IN THE SUN SO YOU WON'T GET CANCER
Want to know a shocking fact? You get 50% of your ultraviolet (UV) exposure before the age of 12. So just because you didn't go in the sun last summer, doesn't mean that you can't get skin cancer. UV exposure plants seeds that grow up years later.
This doesn't mean that what you do today can't help prevent future skin cancers. Protecting your skin at any point in life is always a good idea. Consider this a friendly reminder to protect children's skin to reduce their chances of adult skin cancer including malignant melanoma. 
SKIN CANCER MYTH #5: I WON'T GET SKIN CANCER ON MY FACE BECAUSE MY MAKEUP HAS SPF
I hate to be the bearer of bad news, but the SPF in your makeup is almost exclusively a chemical sunscreen. You are most likely not using makeup with mineral sunscreen in it so it is likely not offering you full-spectrum protection against UVB and UVA rays that cause skin cancer, brown spots, and premature aging. 
My goal as a board-certified holistic dermatologist is to make you feel both beautiful and healthy, so if you'll be spending time outside, put a zinc oxide sunblock on prior to applying makeup.
If you do the opposite of these skin cancer myths, you'll be on your way to healthy skin cancer prevention.
Dr. Angela Brimhall
Board Certified Dermatologist
Board Certified Mohs Surgeon
Dr. Angela Brimhall, TheHolisticDerm, is a board-certified dermatologist and Mohs surgeon offering skin education and advice that she has learned over the past 15 years of treating patients and helping them with their most common problems, diseases, concerns, skin cancer, and other life-altering skin conditions. She has filtered through and applied what really works to her own life and the lives of her patients and created this space to share what she has learned with you. Dr. Angela Brimhall lives and practices dermatology and Mohs micrographic surgery in Salt Lake City, Utah.