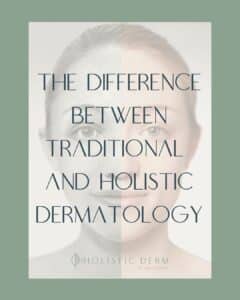 Your skin is the window to your body's health.  It is your largest organ. In fact, it's quite an amazing organ! Your skin truly protects and reflects the health of your entire body. It's the front line to protect you from germs, bacteria, and disease. Because of its size and necessity, the skin should be one of your body's most treated and protected areas. Unfortunately, many people tend to ignore the skin until it becomes an issue.
As a board-certified dermatologist, I've spent the better part of my life studying and practicing diagnosing and treating skin issues in a clinical setting. Seeing thousands of people with different skin issues from treating wrinkles to malignant melanoma. As I've become more experienced and have treated so many people, I've learned that skin issues, can more often than not, start from within. Understanding the body from inside to out has become my pursuit and this fusion is the root of holistic dermatology.
But to better understand Holistic dermatology let's take a moment to talk about traditional dermatology.
WHAT IS TRADITIONAL DERMATOLOGY
Dermatology is the medical practice of treating conditions of the skin, hair, and nails. 
Dermatologists graduate from medical school, complete broad-based internships, and obtain elite dermatology residency positions where they work to specialize for 3 years.  After passing rigorous board examinations they work in clinics, hospitals, or surgical settings seeing patients with rare and common skin diseases. Dermatologists use a variety of methods to treat and analyze diverse skin issues which can include injections, biopsies, histopathology diagnoses, lasers, laboratory evaluations, radiology, radiation, surgical excisions, and MOHS micrographic surgery. A dermatologist's job is to use these tools to diagnose and treat these issues or ailments of the skin. 
WHAT IS HOLISTIC DERMATOLOGY?
As a holistic dermatologist, I completed the same training and use all the tools above to diagnose and treat diseases similar to all dermatologists.
In contrast to traditional dermatology, my pursuit is to maximize skin health and wellness not just treat disease. I do not stop skin deep but seek the physical, emotional, and psychological components of skin health.  Using a multidisciplinary approach to reach a wide variety of people.  
As a holistic dermatologist, I work on the root issues of a skin condition. From experience, most skin issues I treat result from neglecting simple, preventive measures.  With persistence and patience, many skin diseases can be successfully managed and you can maximize your own healthy, glowing skin.  This often reflects a deeper inner health.  
HOW DO I PRACTICE HOLISTIC DERMATOLOGY?
There are a variety of ways I practice holistic dermatology and apply this not only to myself but to my clients, including:
Using simple and consistent skin care

Connecting mind and body (for me, that means dance!  Check out my work as a Wyld dance instructor

!

Meditation

Reducing stress (working out, reading, and spending time in nature with my family and friends)

Connecting with individuals with diverse backgrounds while traveling

Using simple, holistic, skin products that protect my skin from the sun and other harsh environmental elements
If you or someone you love has experienced skin challenges, or just want to take better care of yourself both internally and externally, then you are in the right place. Remember, skin isn't just skin deep. I hope you continue this journey with me and sign up for my monthly newsletter for more information on how to incorporate holistic dermatology and holistic health into your everyday life. 
Dr. Angela Brimhall
Board Certified Dermatologist
Board Certified Mohs Surgeon
Dr. Angela Brimhall, TheHolisticDerm, is a board-certified dermatologist and Mohs surgeon offering skin education and advice that she has learned over the past 15 years of treating patients and helping them with their most common problems, diseases, concerns, skin cancer, and other life-altering skin conditions. She has filtered through and applied what really works to her own life and the lives of her patients and created this space to share what she has learned with you. Dr. Angela Brimhall lives and practices dermatology in Salt Lake City, Utah.